Associate Vice President for Policy, Ohio Technology Consortium, Office of Research, The Ohio State University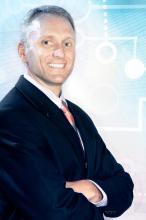 Dwayne G. Sattler serves as the associate vice president for policy for the Ohio Technology Consortium (OH-TECH).
Located at The Ohio State University, OH-TECH functions as an umbrella organization for Ohio's statewide technology infrastructure, the Ohio Academic Resources Network (OARnet), the Ohio Supercomputer Center (OSC), OhioLINK, eStudent Services and the newly established Research and Innovation Center.
Sattler provides senior-level representation on behalf of the Office of Research to OH-TECH, advancing Ohio State's role in the use of technology to promote academic, scientific and economic excellence.
Additionally, Sattler leads OH-TECH's e-learning initiatives to provide all Ohioans with increased access to educational information and opportunities through technology-enhanced resources.
Previously, Sattler held senior positions at both OARnet and OSC since 2006, most recently as OSC's senior director of administration and planning.
In 2003, Sattler founded and served as president of Network Government Relations, LLC, a professional consulting firm focused on workforce and technology-based economic development services.
Sattler served as the majority staff director of the U.S. Senate Committee on Labor and Human Resources, Subcommittee on Employment and Training in the 1990s. In that capacity, he focused on higher education, technology and workforce development issues. He led the effort to pass the Workforce Investment Act of 1998 (WIA). He also served as a legislative assistant to former U.S. Senator Mike DeWine (OH).
Sattler served as vice president of a Washington-based government affairs firm from 1999-2003. Before his employment in the U.S. Senate, Sattler worked as an aide to then Ohio Lt. Governor Mike DeWine on his U.S. Senate campaign. Additionally, Sattler was a U.S. House of Representative Washington Intern Scholar.
Sattler earned his bachelor's degree from Bowling Green State University in 1993.
Organization:
Ohio Technology Consortium
Department:
Policy & Communications (OH-TECH)
Address:
1224 Kinnear Road, Columbus, Ohio 43212